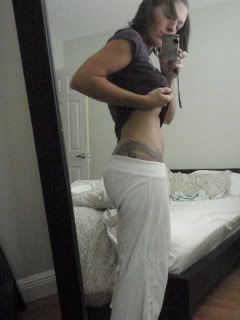 I swear there's a baby in there!!!
Right now, I wonder about that on occasion too. If it weren't for the instant nausea I get if I don't eat on a regular basis and the lack of having my period, I'd question if I were preggers. As terrified as I am to see my body go through the rapid and massive changes that are shortly in store, I can't wait to actually see some proof of this pregnancy body-wise. I know TJ's looking forward to me finally showing. He insists that he'll feel even more connected to what's going on when he can reach out and touch something. :)
This week and weeks forward, the little sprout is poised for rapid growth and weight gain! So exciting. Actually, and amazingly, most of all of his/her critical development is already completed. My little one can kick and bend his/her arms and wrists. He/she's developing little fingernails and hair on it's body. It's kind of strange to imagine this mini-baby swimming and kicking around inside of me, but exciting all at the same time!
We are also just dying to know what we're having (boy/girl). It really doesn't matter either way to either of us, but it would be so great to be able to call it by it's name and identify with it more clearly, ie: "I can't wait to take our little girl to the beach in her little baby-bikini, or I can't wait till daddy can take our little guy fishing, etc." We only have about a month and a 1/2 till we should be able to find out, and we can't wait. We're also really looking forward to our next sonogram and finally having a picture of the little one. Our next appointment's not for another 2 weeks, and being nearly at the end of the first trimester, we should have a lot to see, as opposed to the last one where we really just saw a small blob. :) So, so much to look forward to!