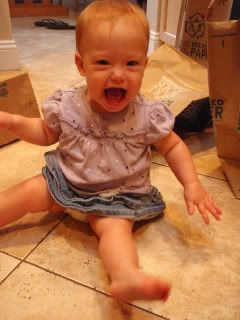 Unbelievably, Christmas is in exactly a week, and my daughter will be 10 mo's old Christmas Eve. I don't really even understand how it can be, but it really does just keep getting better and better when it comes to Leta. The amount of love that I feel for that little girl makes my breath stop, makes my chest clench up, and makes me feel like I could burst, it's so intense. I guess I'm starting to understand what people mean when they say "you never knew you could love something like this...". Uh, yeah - check.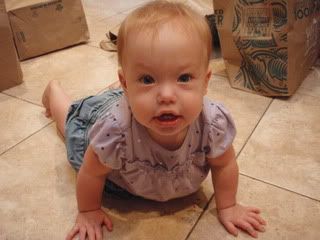 As a family, we're still faring the same. TJ and I are working a bunch, trying to get some house projects accomplished (we're actually finally starting to wrangle in our yard!), make money out of thin air for christmas presents, birthdays and vacations, and somehow, find time for each other. Despite all of that, I think our relationship is smoother and stronger than it's ever been. I feel like we've come through the growing pains of our relationship changing, with the addition of a very demanding little housemate, and we've hit our rhythm both as a couple and as parents.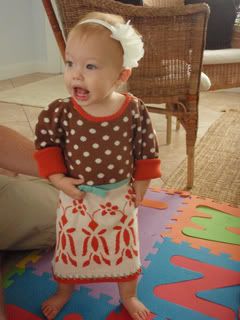 As far as Leta goes, she's simply amazing. The biggest "new" of this past month, has been Leta taking her first steps by herself. It seems crazy to even say, as she's still so tiny, but there it is. She had been standing by herself for the past month and about two weeks ago, she took her first step. It's quickly progressed to several steps at once usually ending in a stumble one way or another. Tonight she stood up at the coffee table, turned, let go and confidently walked to the adjacent armchair. No stumbles, no lunges, just walking. She went nuts giggling and bouncing - so proud of herself. I don't know how long this process usually takes, but it seems like she's progressing very quickly. I think we'll have a full-fledged walker in the next couple of weeks. Seeing that she's never really crawled, TJ and I are just in awe of what's happening. Other than that, she's got 6 teeth, her hair is getting longer ever so slowly and she says "hi dada", "mama" and "what's that". She's amazing.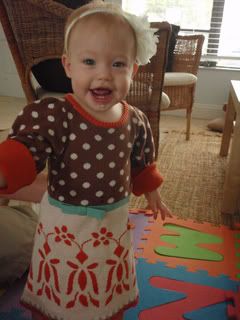 More after Christmas - maybe after New Year's too ;)