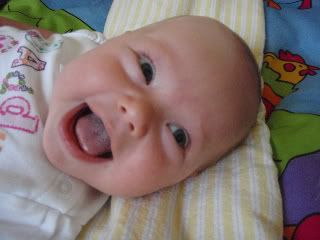 It's been forever and ever since my last post, but frankly, time's a scarce commodity these days! My little Leta bug is nearly 3 months old, and I can say with all truthfulness that it just keeps getting better and better.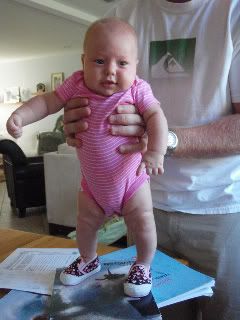 Leta started sleeping through the night (11pm-8am - give or take a 1/2 hr) this week, and I am slowly regaining my sanity - - although, I still speak all jumbled up half the time. I swear this might be permanent brain damage from the sleep deprivation of the first month.....you think I'm kidding.... I can now speak about that first month without the urge to crawl into a little ball and rock back and forth. It was flippin' hard - and we have a good baby! I don't know how mother's of multiples, parents with colicky babies, or single moms do it. Seriously. All hail those people. It was flippin' HARD. I "know" that we want to have another baby at some point, but when I think of having to live through the 3 weeks of every 2 hour feedings, I just want to die. It is SO SO much easier now that Leta can go through a day with a max of 5 feedings. I remember one specific day, early on and when Leta was going through a growth spurt, when I counted how many times I had breastfed in 24 hours and it was 15. No joke. I wanted to cry - still do when I think about it. Thank god I had a husband that was around for the first month (he took a full month off from work to be home with me and the baby) truly trying to do everything in his power to help out. I know that was a rare gift and it's one that I need to remind myself of everytime he leaves a half-finished project lingering around the house....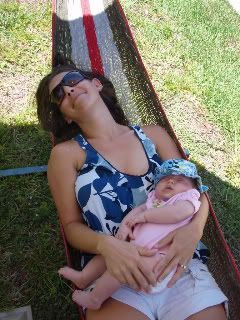 I can also say, truthfully, that I dealt with some "baby-blues" the first 2 or 3 weeks. I've never been one to deal with hormones gone wild during periods and whatnot, but my emotions were out of control those first few weeks at home and I fully blame it on the hormone levels that hadn't yet settled down. I'm talking about absolute, uncontrollable crying. U.N.C.O.N.T.R.O.L.L.A.B.L.E. Like, during dinner. For no reason. Unexpectedly. - - - Well, maybe there was the reason that my life was turned upside down, but usually I can manage that type of stuff without sobbing. Out of control hormones freak me out. All is well now, coincidentally - and if I'm caught crying these days, I darn well meant to. :)
I've gotten past the shock of the "foreverness" of the situation and now can't really imagine my life without Leta in it. The best part is that it's starting to feel like my life again. Some days are still totally overwhelming, but for the most part, it's just back to the grind. TJ and I are both working, laundry is getting done, bills are being paid, pictures are being taken and we're getting ready to go on our first big family trip! We'll be heading to S.Illinois for TJ's annual family reunion in just a week from now. Should be interesting, seeing Leta's dislike for car rides (this trip requires a 5 hour ride there and back from Chicago after a 2 1/2 hr plane ride), but we'll survive.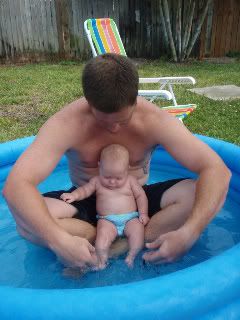 As for Leta's leaps and bounds, she's smiling and "talking" to us all the time. As mentioned, she sleeps through the night in her own room and wakes up being the happiest kid you've ever seen. She squeals, but we're still waiting for a laugh (god I can't wait for that day!). Leta had her first little road trip with mommy and daddy last week (to Ft. Myers) and first hotel stay. It all went great to be honest (except for the part where I was bfeeding her in the car and she pooped out of her diaper on me and the seat and then vomitted all over herself and me in one fell swoop, but that's a whole other story). That coincided with her first swim in a "big" pool, as opposed to the little one we bought for her at home. She holds her head up incredibly well and loves to stand up (with tons of support of course).
My kid's rad.